Introducing a new and innovative leather category Purely Protected®. The technology found in Purely Protected® leathers reduces the scratching, fading, staining and color variation found in aniline leathers. Aniline leather is a type of leather dyed exclusively with soluble dyes. The dye colors the leather without producing the uniform surface of a topcoat paint or insoluble pigmented sealant. The resulting product retains the hide's natural surface.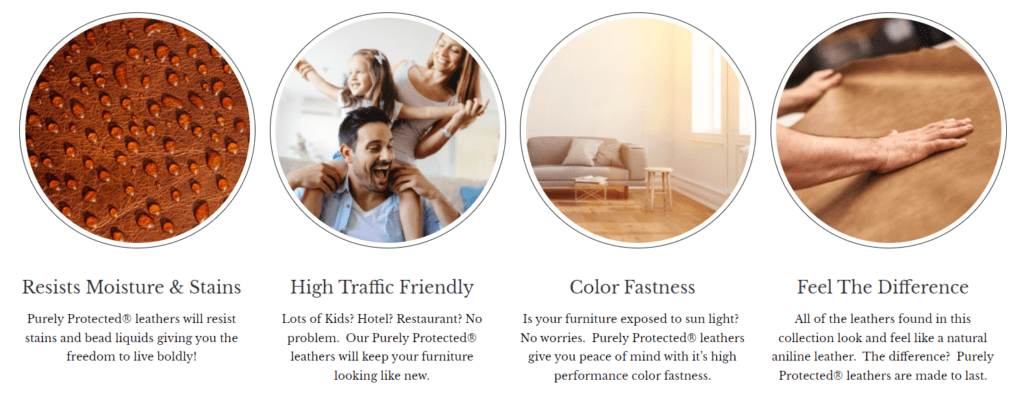 All of the leathers found in Purely Protected® collection look and feel like a natural aniline leather. The difference it's high performance color fastness, moisture and stains resistance. This collection takes on equally important aesthetics of highly sought after aniline, wax or oil leathers. Lastly with durability similar to our protected or pigmented leathers.
Purely Protected® leathers will resist stains
Purely Protected® leathers are perfect for the home, hotels, office and restaurant use.  No matter the application, there is no need to sacrifice soft and luxury leather for the sake of performance.
Natural sources to acquire high quality leather
These leathers sourced from tanneries whose industrial processes offer low impact and sustainable. Innovative leather has no traces of plastic or other non-animal materials. The new leather doesn't leave behind additional industrial waste.
How upholstery leather is made video describes the processes involved with making from start to finish.
We acquire high quality leather from our natural sources allows us to deliver a diversity and quality product. Our commitment to excellence guarantees our efficiency and focus. True innovators always pushing the boundaries to bring in front the best solutions and values.
Upholstery requires many different skills, creativity, familiarity with numerous required tools, and thorough knowledge of processes — in all, it's a trade that takes upwards of five years to learn. All of our team members have years of experience in providing quality services. Seats upholstered with leather stay in top condition for a long time. Leather is not immune to wear and tear.
No matter the application, you don't have to sacrifice soft and luxury leather for the sake of performance. Contact us today.