When designing a restaurant, the layout of the dining area should be one of your main focuses.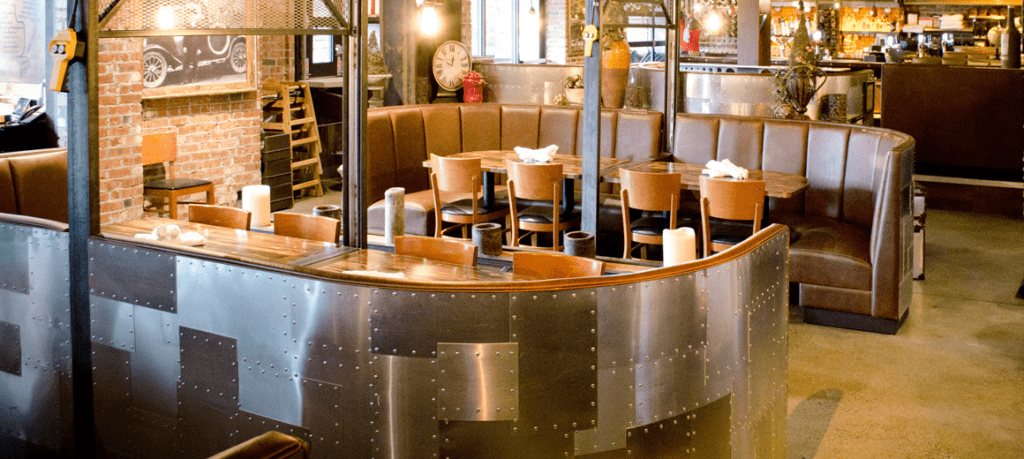 The layout and type of seating used in a restaurant is important for several reasons. Maximizing the space and functionality of the establishment while also emphasizing comfort for the patrons. An excellent layout must accommodate as many diners as possible. While allowing enough room for servers to maneuver around with plates of food and drinks during a dinner rush.
A stylish, cost-effective, and space-saving way to accomplish this in a restaurant is through commercial restaurant booths.
What Is Booth Seating?
Booths are made up of one or more banquettes to form a comfortable also intimate seating arrangement. Multiple banquette seats create a booth with a face-to-face, horseshoe, or U-configuration. Typically arranged back-to-back allowing for a maximum amount of seating in a restaurant setting. 
Booths are perfect for families or parties of six or under and create a sense of privacy and close quarters apart from the bustling restaurant environment. 
What Is the Difference Between Booths and Banquettes?
You may hear "booths" and "banquettes" referred to interchangeably, but they do have differences. 
Banquettes are upholstered benches and can be used on their own, either built into or along the wall or paired together to create booths. Banquettes are often paired with a pedestal table on the other side that can be spaced apart or connected to another table depending on the amount of seating needed.
One or more banquettes are put together to create booths.
Booth Sizes
Booths come in several heights and widths, as well as a variety of shapes to fit unique spaces and accommodate different amounts of people.
Before purchasing or building booths for your space, you'll need to take measurements and determine what you have room for, keeping in mind the thru traffic of patrons and staff. Research online to see examples of booth arrangements and layouts in similar dining establishments to give you a better idea of what booth layout might work best for you.
Booths are commonly installed against walls or back-to-back in an aisle to offer more seating, and typically come in these styles:
Deuce Booths
Deuce booths are two-person booths, with each seat arranged in a face-to-face configuration.
Single Booths
The booths are one-half of what you would consider a typical booth, with a booth seat on one side and a flat back on the other. This single booths are usually used at the end of an aisle of booths.
Double Booths
Double booths are single booths built back to back in an aisle.
Split Booths
Basically a singular banquette, split booths have booth seating on one side and a table and restaurant chairs on the other.
If you have a peculiar-shaped space in your dining establishment that you'd like to add a booth to, you might want to consider custom restaurant booths. This covers half-circle booths or three-quarter booths for larger parties who want more privacy, or smaller-sized booths for other nooks and crannies.
[Related: Popular Styles of Commercial Restaurant Tables]
Booth Tables and Bases
Tables used between booth seats are usually rectangular in shape, since they work best with the size and shape of booth seating.
The table base can be a variety of styles, but in order to maximize the amount of space for your diners, consider cantilever table bases. Cantilever table bases anchor the table to the wall, rather than the floor, giving customers extra leg room and ample support.
Booth tables made out of solid wood or laminate. While laminate is widely customizable, easy to clean, and comparatively less expensive than solid wood, wooden booth tables are classic and give off an atmosphere of warmth and comfort. Butcher block and plank are common solid wood styles in restaurants.
Booth Seat Material
After sizing, style, and placement of the restaurant furniture booths, deciding on the booth material is the next step.
Booth seats have cushions either made of spring foam or solid foam, with spring foam being the most popular choice. Cushions set on a wooden frame and upholstered with a variety of different materials.
Choose the best restaurant booth upholstery for your establishment. Consider what type of atmosphere you want to create. Running a family-focused restaurant or a fast food diner, opt for something durable and easy to clean. Opening a high-brow steakhouse, might want to go for something a bit more luxe.
Comfort, cleanliness, and aesthetic are key. Some options for restaurant booth upholstery include:
Vinyl
Vinyl is easy to clean it is resistant to stains caused by messy foods. It comes in a wide variety of colors, making it simple to match booths with the style of restaurant.
Linen
Linen is another more casual booth upholstery material. This durable natural textile is soft and casual-looking, making it a perfect choice for open-air dining or patios.
Although not stain-resistant like vinyl, linen is lower-maintenance than materials like velvet or leather.
Velvet
Velvet is posh, sophisticated, and luxurious. It's a durable and strong material that is soft to the touch and looks great in high-class restaurants.
Velvet is more difficult to clean than vinyl, leather, and linen and can be a bit more expensive as well.
Leather
Leather, whether real or faux, offers elegant, classic, and warm look. Mostly found in fine dining restaurants and steakhouses.
Faux leather comes in several colors that can easily match any restaurant's palette. Both faux and real leather are durable and can withstand wear and tear. These materials are fairly easy to clean as well with a damp cloth and a light vacuum.
Creating the right atmosphere for your restaurant is an important aspect of running a business. You want your customers not only to love the food, but to feel comfortable and satisfied while they're dining.
Choose a sophisticated leather double booth, for a high-end restaurant. Durable vinyl split booth for a family diner. Maximizing your space and comfort level by choosing restaurant furniture booths.
Custom-Design a Booth or Banquette for Your Business
Our team of experts can answer all of your questions on restaurant booth seating. Collaborate with us on your custom restaurant booth project. Contact us today!
QA Group is a member of Architectural Woodwork Institute (AWIGCP) a nonprofit trade association. AWI's Quality Certification Program gives a stamp of approval to professionals in the woodworking industry, ensuring their skills and abilities to clients.