One of the most important aspects of designing your restaurant or bar interior layout is deciding on the types of commercial restaurant furniture you're going to use. You want to provide more than tasty food to your customer — you want to provide a memorable experience. Things like comfort, style, and functionality should all be taken into consideration when choosing commercial restaurant tables.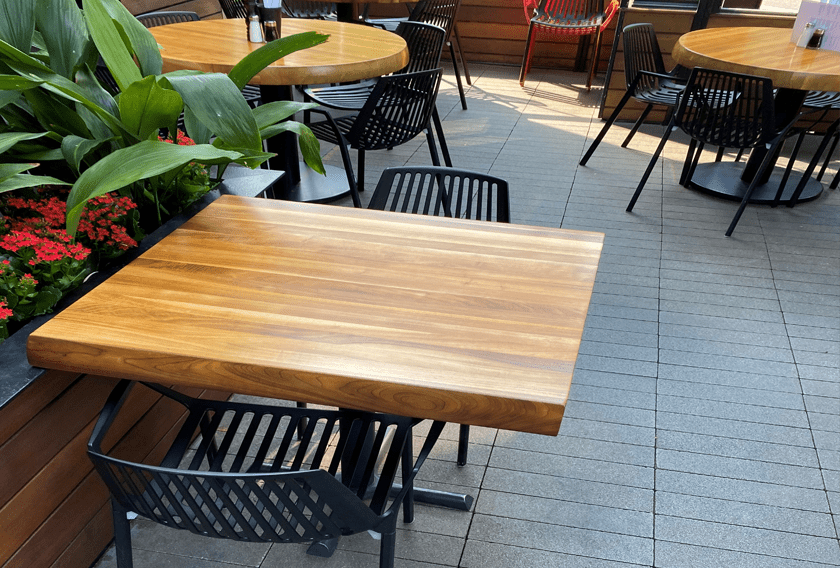 The right furniture, such as restaurant tables, can tie your style together and create a warm and inviting atmosphere. Since so many different types and styles of restaurant furniture exists, you need to know what you're looking for.
Styles of Commercial Restaurant Tables
Your tables' design needs to enhance the atmosphere and match your restaurant's style. Here are just some of the more popular styles of commercial restaurant tables.
Two-Four Person Tables
Commercial tables that fit two to four people are the most popular type of arrangement in a dining establishment.
These tables typically range in size from 24 x 24 inches to 48 x 36 inches. Round tables with tabletops ranging from 24 to 26 inches can also easily accommodate two to four diners.
Bar Height Tables
Bar height tables are taller tables usually accompanied by bar stool seating. These are usually found in a sports bar, pub, or the bar section of a restaurant. Square or round tabletops are affixed to a 41-inch base, sometimes have a foot rest toward the bottom.
Booth Tables
Booth tables create an intimate, cozy dining area in even the busiest of restaurants. 
Booths are made up of banquette seating with upholstered backs in a horseshoe or face-to-face configuration. Booth tables are typically attached to the wall between seats to maximize leg room, and are square or rectangular.
Family Dining Tables
Picture your dining room growing up, and you might think of a larger round table with several chairs for family and guests. A family dining table in a restaurant is just like this, meant to accommodate eight to 10 people. Family dining tables used for banquets and parties, or in special areas.
Patio or Bistro Tables
Sometimes called bistro tables, patio tables are smaller, movable tables usually made out of wrought iron, aluminum, plastic, or another weather-resistant material. These tables arranged and rearranged outside, and stacked for storage when not in use.
Commercial Restaurant Table Materials
When deciding on the material of your restaurant table, you'll want to consider how easy it will be to clean, its durability, how it looks, and whether you will be using it indoors or outdoors (or both).
For example, aluminum, steel, and polypropylene are materials that work best with dual-purpose furniture that will be used both inside and outside.
If you want to save money and have a variety of customization options, a laminate table top could be the right choice for you. The synthetic material made to look similar to wood or marble, it is heat/scratch resistant.
Choosing solid wood as the material for your restaurant table provides your environment with a warm, classic atmosphere. Wood tables are extremely durable, and can come in a variety of types and finish options, which makes customization easier than you'd think.
Styles of Commercial Restaurant Bases
The following are the most common types of commercial bases for commercial restaurant tables:
Four-Prong Restaurant Bases
Four prong table bases are perhaps the most popular style of bases since they provide stability at all four points and pair nicely with both square and round tabletops.
Square Restaurant Bases
Square table bases provide structural support and minimize wobbling with a wide base plate.
Round Restaurant Bases
Round table bases work best with round tabletops, sometimes used with bar height tables.
Cantilever Restaurant Bases
A cantilever table base used for booth seating, attaching the rectangular tabletop to the wall. Freeing up extra leg room directly underneath the table.
QA Group works with you to design custom commercial furniture that fits your specific needs. Whether you're looking for the perfect bar height table for your pub, the best custom restaurant table tops, or the best patio furniture for your open-air restaurant — we've got you covered. 
Let's work together to furnish your business with high-quality, stylish commercial furniture. Contact us today by calling 833-570-2170 or by using our online form. We look forward to working with you!
QA Group is a member of Architectural Woodwork Institute (AWIGCP) a nonprofit trade association. AWI's Quality Certification Program gives a stamp of approval to professionals in the woodworking industry, ensuring their skills and abilities to clients.