Upholstery is very welcoming – you can sit on it and touch it – fabrics and other soft finishes are a visible, tangible part of any building interior, much like cabinets and upholstered wall panels. Upholstered cushions offer an unmatched versatility to the interior design in millwork industries. These custom cushioned panels add comfort, texture, and design to any surface.
Customizing your upholstered cushion panels
We can make cushions to fit your exact specifications, including firmness, foam quality, shape and dimension – and can accommodate details like Dacron batting, wrapping or down envelopes. Styling choices for upholstered cushions presents many great options. The options begin with fabrics, but how the fabric applied and styled can really set the cushions apart.
We highly recommend adding Dacron batting to seat cushions. Dacron is a soft polyester filler that gives most seat cushions their common rounded look. For an over-stuffed look and feel, double Dacron can be used, also down envelope for the cushion. Thinner foam cushions feel softer, as opposed to thicker foam, which generally feels firmer due to greater area to support the weight.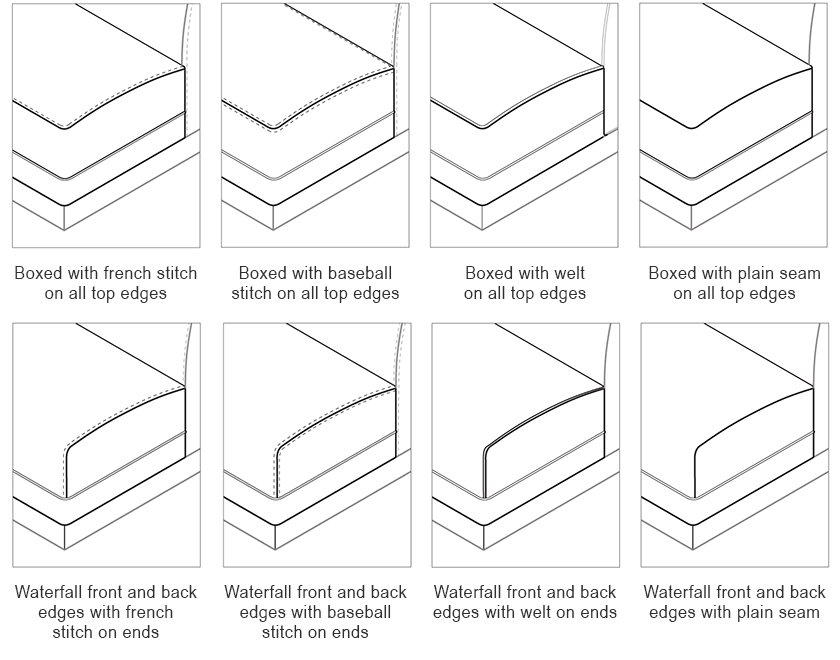 Stitching together an upholstery cushion seat
It's all about the stitch. It's a small thing, barely noticeable at first. But the stitch can change the appearance of your banquette more than any fabric can. After all design is in the details. Knowing how and where to specify a specific stitch style can drastically alter the appearance of a cushion design.
4 things to consider when detailing a cushion seat:
Plain upholstered vs. waterfall upholstered
French stitch
Baseball vs saddle stitch
Welting
Waterfall upholstered front and back edge with a French stich cushion seat will have a full & plush appearance. A plain upholstered seat with baseball stitch on the top edges creates a square appearance cushion is the most minimal of designs. No curves or plush appearance in this case, consider different foam/cushion specifications as well.
For a more residential look, welting on top and bottom edges adds another layer of depth.
Custom capabilities
QA Group custom commercial furniture is expertly crafted with FSC certified wood. FSC certification for commercial furniture is a good indication that the furniture has been independently evaluated and determined sustainable or eco-friendly.
We utilize over 100,000 square feet of manufacturing space to create high-grade products that go above and beyond expectations. Within our operating space, our engineering department operates two CNC machines and has the capabilities to do any project to specification through CAD drawings. We specialize in banquettes, booths, wall panels, upholstered seat cushions, substrates, wood color match, and any other custom seating needs.
QA Group is a member of Architectural Woodwork Institute (AWIGCP) a nonprofit trade association. AWI's Quality Certification Program gives a stamp of approval to professionals in the woodworking industry, ensuring their skills and abilities to clients.