Alternative seating options for any café or office lobby focus on sophistication and comfort, in custom lounge furniture. Stylish, quality commercial lounge furniture can really heighten the atmosphere of any establishment.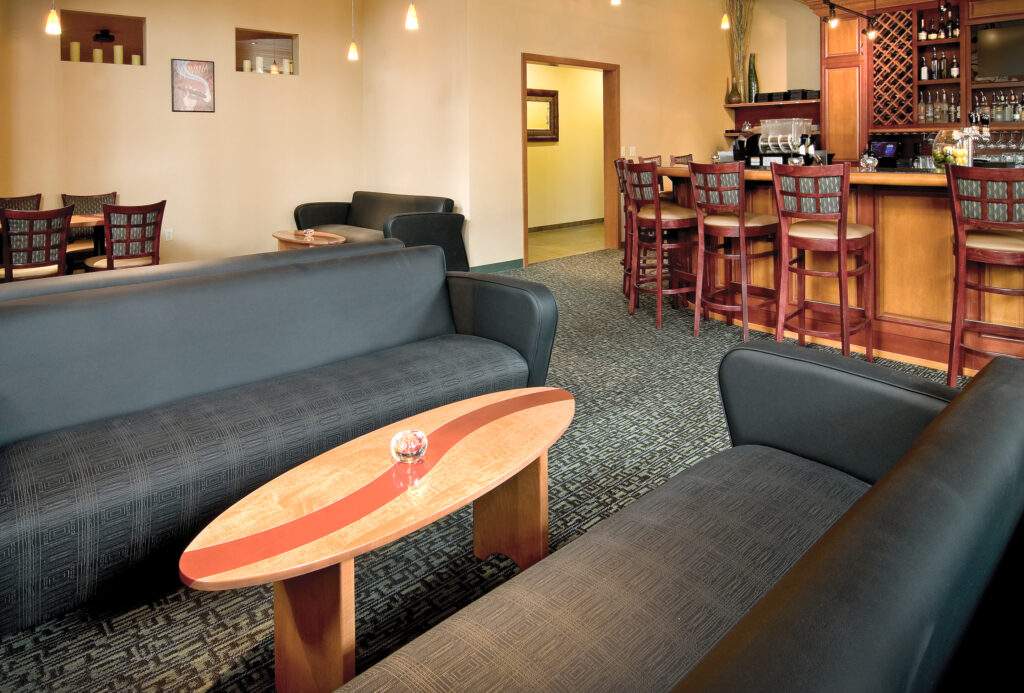 What Is Lounge Furniture?
Lounge furniture can describe anything from single chairs and loveseats to booths and couches, and is typically defined by soft lines and quality, comfortable materials. For example, a wooden bench located outside of a coffee shop wouldn't be considered lounge furniture, while an upholstered reading chair in a library would definitely fall into that category. Guide to lounge seating showcases a balance between comfort and functionality.
Pieces of furniture such as arm chairs, loveseats, and sofas can provide a comfortable place for customers and clients to settle in while they spend time in a lobby, waiting room, or even in a  seated section of a café or bar. Commercial lounge furniture tends to give off a more casual vibe, inviting those visiting your business to stay a while, relax, and enjoy the atmosphere.
What Types of Businesses Could Benefit From Lounge Furniture?
Are you designing the interior of one of the following types of businesses? Maybe you could benefit from commercial lounge furniture.
Coffee shops and cafes
Hotel lobbies, suites, and meeting areas
Office reception or waiting areas
Restaurants
Nightclubs
Lodges and resorts
Larger bathrooms/powder rooms
Bookstores and libraries
Salons, spas, and beauty parlors
Types of Commercial Lounge Furniture
Arm Chairs
One option for commercial lounge seating is single-seat chairs, including arm chairs. These types of chairs are a great addition to any lobby, office reception, salon, or library — basically any location where individual customers might be visiting rather than a group.
Arm chairs can also be a welcome addition to a larger bathroom or powder room in an upscale restaurant or hotel lobby.
Loveseats
Loveseats are a popular type of chair that some would say is a cross between an arm chair and a sofa. A loveseat is typically a two-seater couch, with both connected seats either facing one way or, in some cases, opposite ways.
Loveseats are the perfect commercial lounge furniture for coffee shops and cafes, meeting areas in hotels, restaurants, night clubs, lodges — really most places where you could see customers coming in small groups of two.
Booths
Commercial lounge booths are made out of one or more banquet seats and usually surround a table, creating an intimate and cozy environment. Booths can be arranged in a horseshoe, face-to-face, or U-shape configuration, and can allow for some privacy in an otherwise busy environment.
Restaurants, cafes, nightclubs, and resorts are the best places for this type of commercial lounge furniture.
Sofas and Couches
Sofas and couches usually refer to the same thing, it just depends on your colloquial preference. These options for commercial lounge seating are best for places that draw groups of two or more people, such as the lobby of a theater, restaurant, nightclub, or lodge.
The Best Material for Lounge Furniture
The main goal of commercial lounge furniture is comfort. You want to choose furniture made with materials that invite your clients to feel relaxed and at ease. At the same time, you need to take into consideration your environment's atmosphere.
Are you looking for sophisticated lounge seating for a theater or upscale restaurant? Velvet upholstery might be a great idea. If you're designing a lounge area for your library, cafe, or lodge, leather seating will give off a classic, traditional vibe while also being durable and comfortable.
Functionality and Comfort for Commercial Lounge Seating
When choosing your perfect lounge furniture, remember to focus on both comfort and functionality. For example, although a very soft and cushy armchair would undoubtedly provide comfort, if you're adding it to your bar or coffee shop lobby, you'll need to ensure it isn't too low to the ground to avoid accidents such as spills or trouble getting up.
Similarly, if your dream furniture for a family establishment such as a movie theater is velvet seats, you're going to want to be aware of the proper velvet cleaning techniques to avoid long-term damage from accident-prone children.
Find a balance between comfort and functionality. Guide to lounge seating showcases focus on the comfort, while keeping in mind the establishment's atmosphere and purpose.
Contact QA Group Today!
Are you interested in upgrading your restaurant, office waiting room, lobby, or nightclub with commercial lounge furniture? From custom products to upholstery and installation, we can help. 
Contact us today to tell us about your project and get an estimate.
QA Group is a member of Architectural Woodwork Institute (AWIGCP) a nonprofit trade association. AWI's Quality Certification Program gives a stamp of approval to professionals in the woodworking industry, ensuring their skills and abilities to clients.