In 2019, a survey revealed that 56% of Americans dined out at restaurants at least two to three times per week. That's a lot of meals — and seats — to provide!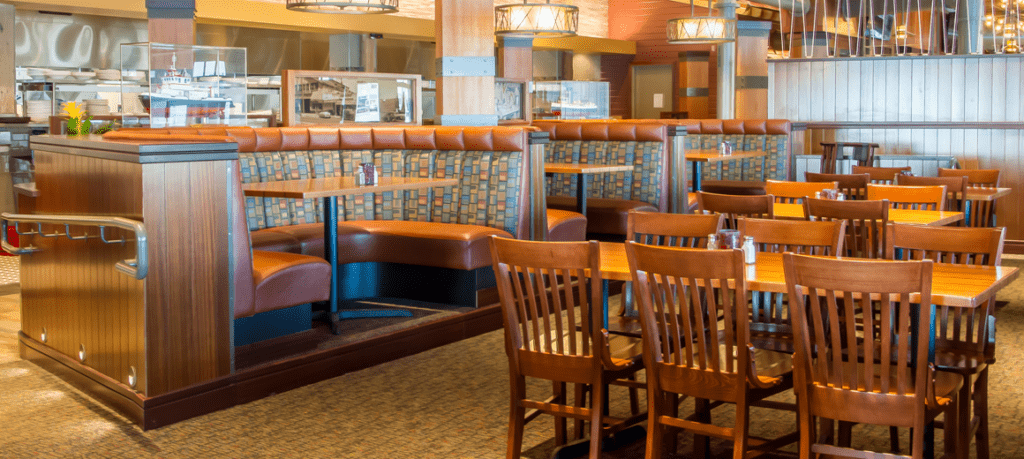 Of course, the COVID-19 pandemic has dramatically impacted the hospitality industry, and for months, dining out was more of a rare treat. Now, as capacity limitations are gradually being lifted for many businesses, patrons are beginning to fill the seats more and more — so it's important those seats are comfortable, right?
Providing the best dining experience for your customers is essential, especially nowadays, as it offers a much-needed sense of normalcy.
Here's a look at some classic and contemporary restaurant chair options for your business.
Classic Wood Restaurant Chairs
Wooden chairs bring a welcoming sense of home to your restaurant. You can't go wrong with the classics!
The variety of designs are suited for just about any type of restaurant — from casual pizza joints to high-end steakhouses. No matter which one you choose, wooden chairs are sturdy, reliable options.
Of course, working with wood has its drawbacks. It cannot be used outdoors (unless it is covered or finished with a weather-resistant lacquer) since rain and other elements cause damage. Since wood is easily scratched, the chairs require a lot of maintenance and polishing to keep them looking new. 
That said, wooden chairs make great additions to your restaurant. Here's a look at some of the most popular styles:
Ladderback
When you think of restaurant seating, ladderback chairs are probably what come to mind. They are known for their vertical slats across the back that resemble the rungs of a ladder. The legs and backs can be curved or straight, and the seat is either wooden or upholstered.
The design is timeless, dating back to the 18th century, and has been updated throughout the years to reflect modern styles. 
Flatback
Flatback chairs are exactly what you're picturing — a wooden frame with a solid, flat back. For extra comfort, these chairs can be fully wrapped in upholstery. For a more contemporary look, cut-out or slotbacks are also available.
Schoolhouse
Schoolhouse chairs are similar to the ladderback style, except with vertical slats across the back. They also resemble — yep, you guessed it — school chairs. They're available in various designs, including simple backs with upholstered seats, curved or straight backs, and wooden seats.
[Related: Popular Styles of Commercial Restaurant Tables]
Contemporary Metal Restaurant Chairs
Metal chairs are durable and long-lasting, especially with their welded joints. They bring a more modern, industrial vibe to your restaurant. Metal chairs are great for both indoors and outdoors and can easily be wiped clean.
Many options are lightweight, so moving them around takes little effort. They aren't prone to scratches like wood, and the overall maintenance is much lower. If you have a high turnover rate, metal chairs will show less wear and tear than wooden ones.
The cons? It's still possible for painted metal chairs to scratch and chip. Metal also has the potential to rust.
Metal chairs come in a lot of the same styles as wooden chairs, including ladderback and slotback. There are also designs that feature a combination of metal and wood elements. Metal chairs also offer more unique options, like these:
Paris Chair
A steel frame and high rounded back make up this lightweight, french-style chair. Paris chairs are typically associated with bistros, coffee shops, and cafes, but can be used in pretty much any setting. The design is simple, yet adds a lot of character to your atmosphere.
Diner Chair
The diner chair is a fun, retro design guaranteed to stand out. (Think 1950s-style dining chairs.) It's made using a chrome frame and upholstered seat and back. These chairs bring a classic yet contemporary feel to your restaurant.
Combination Chairs
Chairs that combine elements from both wood and metal are some of the most popular among restaurant owners. A metal frame with a wooden seat and back produces a contemporary, clean look suitable for any restaurant setting.
Furniture Is Our Specialty
From classic to contemporary, we have an array of restaurant chairs to fit your needs, including those mentioned above.
If you have a unique design in mind, we can provide that too! We offer custom product development — if you can imagine it, we can create it.
Contact us today and let us know how we can help bring your furniture vision to life.