There's something so nostalgic about sitting down to eat in a booth. It takes you right back to the 1950s diner scene. You can imagine waitresses bringing you your coffee while the jukebox plays in the background.
At the same time, taking your seat at a glamorous banquette can really make your dining experience feel like a night out. You feel as though you're treating yourself to a special occasion.
With so many benefits of both types of seating, it can leave restaurant owners scratching their heads. They have to try to figure out which to use in their space. After all, both are great options!
For anyone trying to figure out the pros and cons of booths and banquettes, we've got you covered. Here's the difference between the two types of seating.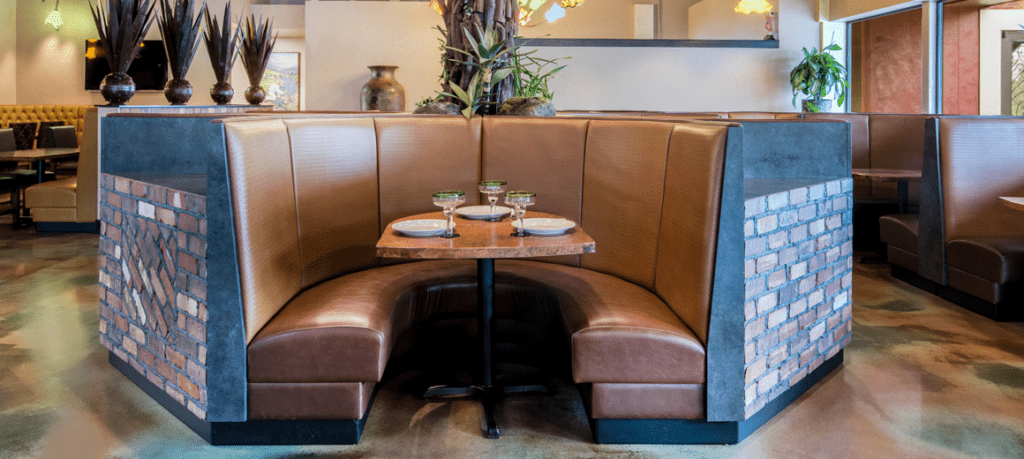 Booths for Restaurants
Restaurant booth seating is a classic choice for restaurant seating arrangements. They're classy, customizable, and easy to arrange in most types of spaces.
Typically, restaurant booths are made by arranging several banquette seats into a face-to-face, U-shape, or horseshoe shape arrangement. This type of seating creates an intimate atmosphere for the diners.
One of the benefits of booth seating is that they make diners feel like they're in their own private room. Since they're semi-enclosed, it can give diners more privacy than other types of seating arrangements.
Commercial booth seating is a popular choice for restaurant owners because it's a great space-saver. modern restaurant booths are easy to place in limited space and allow diners to have a quiet and cozy space to enjoy with friends and family.
Booth seating is also great for restaurant owners who get busy. Because modern restaurant booths put customers in close quarters, it can make it easier to hear each other over loud noises. That's why lounge booths are popular in nightclubs and bars.
Restaurant Banquette Seating
Modern restaurant banquette seating is another great way of outfitting your restaurant with seating that your customers will love. Banquettes, however, are a little bit different from booth seating.
These types of seats are basically benches that are covered in upholstery. They're typically placed together or built into walls. The arrangement can actually form a booth type of seating, but it isn't the same.
In most situations, banquette seating is used in conjunction with chairs and pedestal tables. That way, the pedestal tables can be easily moved around to make space for larger or smaller groups of diners.
Since banquette seating can be arranged into many different shapes, they make an extremely versatile seating option. They allow restaurant owners to maximize space even in restaurants that don't have a lot of room.
Another great feature of banquette seating is that it can be styled to look good in any type of atmosphere. You can choose upholstery that matches the vibe you're wanting to create in your restaurant. You're able to install a casual space or a fine dining atmosphere.
Advantages
Whether you want to install the more classic booth-style seating or the more versatile banquette seating, there are advantages to both of these arrangements. Each can provide your restaurant with benefits that make it a space that customers will love!
Better yet, the benefits provided by these seating arrangements apply to nightclubs, bars, cafés, and restaurants. That makes them perfect for a variety of different establishments.
A few great advantages of using booth and banquette seating include:
Both booths and banquettes make use of the entire space. They can be easily moved around and arranged so that business owners can allow for extra seating and enough clearance in the aisles.
Booths and banquettes can make use of awkward corners and nooks. They can be manipulated to seat customers in areas that might otherwise become wasted space.
These types of seating are extremely customizable. They can be transformed into casual diner-style seating or can be used for fancy, upscale restaurants.
With so many benefits of these types of seating, booths and banquettes are a great option for anyone looking for durable commercial seating.
Disadvantages
While booths and banquettes provide far more benefits than they do disadvantages, it's still important to know about potential problems you may encounter with this type of seating. That way you can make an informed decision on which to buy.
For one, booths and banquettes are extremely customizable. While this is generally a good thing, it means that the probability of buying them second-hand is quite low.
If you're planning to install booths and banquettes, you'll want to plan on purchasing them new. That way, you can make sure that their style matches the atmosphere you're creating in your restaurant, café, or nightclub. After all, modern wooden benches wouldn't be appropriate in a retro diner setting!
Another disadvantage of using booths and banquettes is that they can be fairly "one-size-fits-all." That means that they are usually designed for people who are of a certain height or build.
It can make them a little less versatile than you may be looking for. Many restaurant owners overcome this problem by combining booths and banquettes with other styles of seating, too. That way, they can get the best of both worlds and still install gorgeous booth- or banquette-style seating!
The Bottom Line
Both types of seating are great for making people feel at home in your restaurant. Each of these seating types helps to set the mood and the atmosphere in your particular restaurant.
If you're getting ready to outfit your restaurant with amazing seating options, look no further than the team at QA Group custom furniture. Give us a call, and we'll get you an estimate for your seating options!
QA Group is a member of Architectural Woodwork Institute (AWIGCP) a nonprofit trade association. AWI's Quality Certification Program gives a stamp of approval to professionals in the woodworking industry, ensuring their skills and abilities to clients.